Horse Barn Design Service
From the first sketches on your kitchen table to the engineered plans, building permits and the actual construction, Dutch Masters will be your partner in creating the horse facility you need and want. Our past successes will give you confidence in our expertise and peace of mind knowing that work will be carried out professionally and beautifully.
Our most important asset our ability to listen. In addition to answering your questions, we listen to your ideas so we can incorporate them into the design of your project from the ground up.
We know that a breeding facility is very different from a boarding and training barn. We do not have a standard set of plans and will not try to squeeze your ideas into a ready-made box. Instead, we create what you want by using your vision. We will produce plans, make revisions, and finesse the details until we have a final result that you are not only comfortable with but can also be proud of.
The Dutch Masters design team can produce a 3D image of the line drawing-including exterior colours and finishes, and the property layout--so that you can visualize the end product. We also offer design services to clients outside of our immediate geographic area: using our horse-barn building expertise, we can help with the details and get your project started.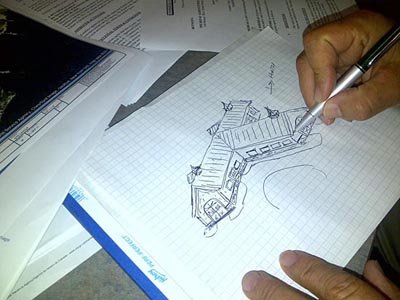 Rough sketch of client ideas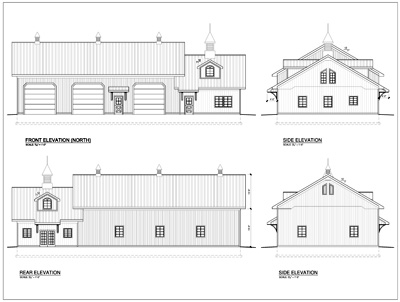 Detailed line-drawings used to apply for permits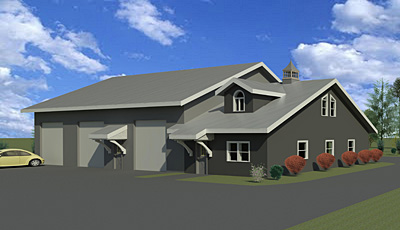 3D Image or Rendering concept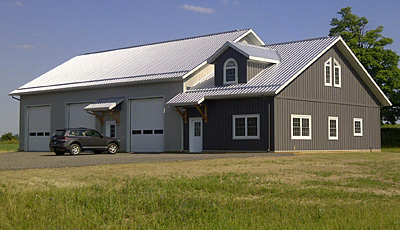 Finished product

Custom Stall Design
Dutch Masters designs custom stalls for each project. Stall function, appearance and safety are the focus of the stable and should complement your unique facility. We do not limit our clients to two or three mass produced product lines. We consider the complete barn infrastructure in the design of the stalls by integrating the method of feeding, mucking out, bedding and traffic flow as part of the overall plan.
We work with the manufacturer to custom build every stall. This means that our clients will have a stall with the features they want for a price they can control. Each stable has its own layout, appearance, and particular needs. Having the freedom of choice also personalizes the stable in terms of function and aesthetics. Renovating an older barn presents unique challenges which require custom made solutions.
The paramount consideration with every stall design is safety. Our experience has exposed us to many potential problems that can happen with horses inside the stall. This knowledge is shared with the owner and incorporated into the design. This cannot be compromised as the well being of horse and handler is imperative.
The selection of hardware materials and colours can vary from galvanized metal to a variety of powder coated finishes to match the appearance of the farm. Doors can swing or slide; use mesh or grills for ventilation; have yokes or inserts which will depend on the individual owners' tastes and can be adjusted based on the temperament of each horse in the barn. Stall partitions can be lined with a variety of hardwoods, brick or fiberglass, or open grills between each stall for increased air flow throughout the barn.
Specialty stalls for grooming, wash stalls, foaling, and stallions are all made to the specifications required to meet the customer's needs. The stall flooring can be wood, clay, compacted stone screenings, rubber mats, concrete, or asphalt; with drains or without. The stall design also includes consideration for ventilation, window location and size for air movement and light. The stall is complete with planning for water and feed services to the stall.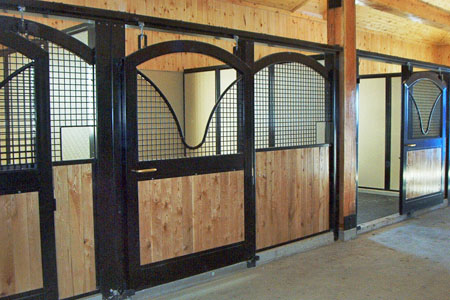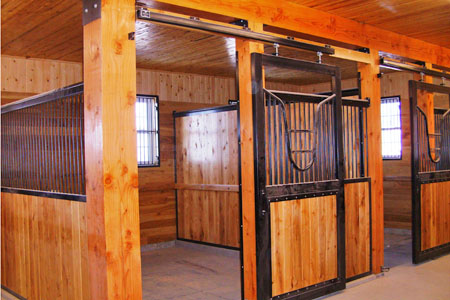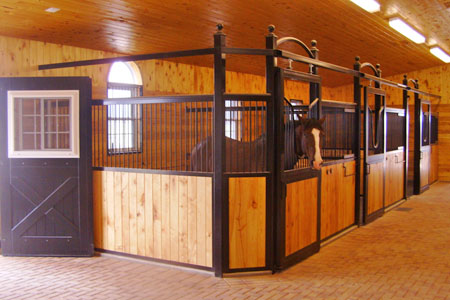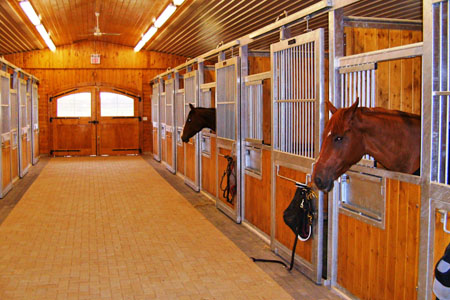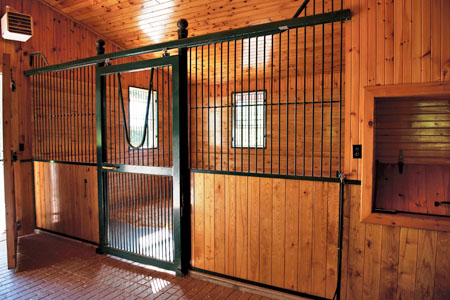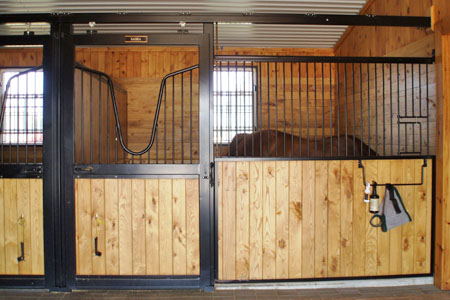 Green Initiatives
We attempt to stay apprised of current trends and stay up-to-date with changes in building design, new energy alternatives and policies affecting your horse farm property. Many of our projects have included Geo-Thermal – an underground energy source which is a cost-effective means of heating and cooling for larger buildings. Using the large roof surfaces for collecting SOLAR energy is another popular green energy alternative. There are several solar suppliers that we have worked with to assist in the application and design process.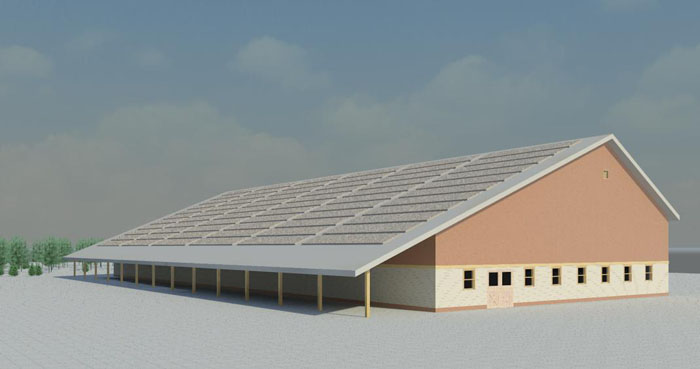 Solar Arena

Farm Building Ventilation
The function of a properly designed horse facility should include the ability to control the air quality where the horse lives. Air quality will affect moisture, heat, dust and bacteria counts. The proper environment within the stable is critical to the health of the horse as most equine diseases are airborne. Extreme high moisture conditions also cause mold and premature rusting of steel and rotting of wood. With proper management of the barn environment, this can help protect your investment in the health of your animals and the longevity of your facilities.
A ventilation design by an agricultural professional includes the selection of the proper equipment and settings to make the system perform to its maximum benefit.

Arena Lighting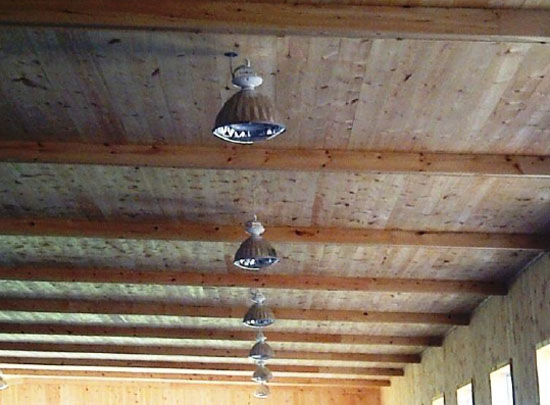 Dutch Masters has commissioned a report on lighting options for indoor riding arenas to compare energy costs and the benefits of various fixture options. The cost of energy is a concern for all our clients, as is the impact on the environment. Factual information from a recognized professional source is another way Dutch Masters helps its clients make the right decision about building designs. Comparing incandescent, fluorescent and metal halide (gas filled fixtures), with actual input costs, installation and operation costs, provides more information for our clients to make informed decisions about the design of their building.