In the Community
As a small, family-owned company, Dutch Masters is committed to being involved in and giving back to community projects, both within and outside of the horse industry.
CornerStone Dressage
For the 2013 season, Dutch Masters will again be sponsoring CornerStone Dressage shows at the newly renovated Caledon Equestrian Park.
Watch for us at the Advanced Open Division. Spring into Dressage May31-June2, Summer Festival July12-14, and the Summer Classic August9-11.
Good Luck to all competitors and our dressage friends, old and new.
Below, Gary presents ribbons and cooler to the winner, Diane Creech on Chrevis Christo at Palgrave, June 2.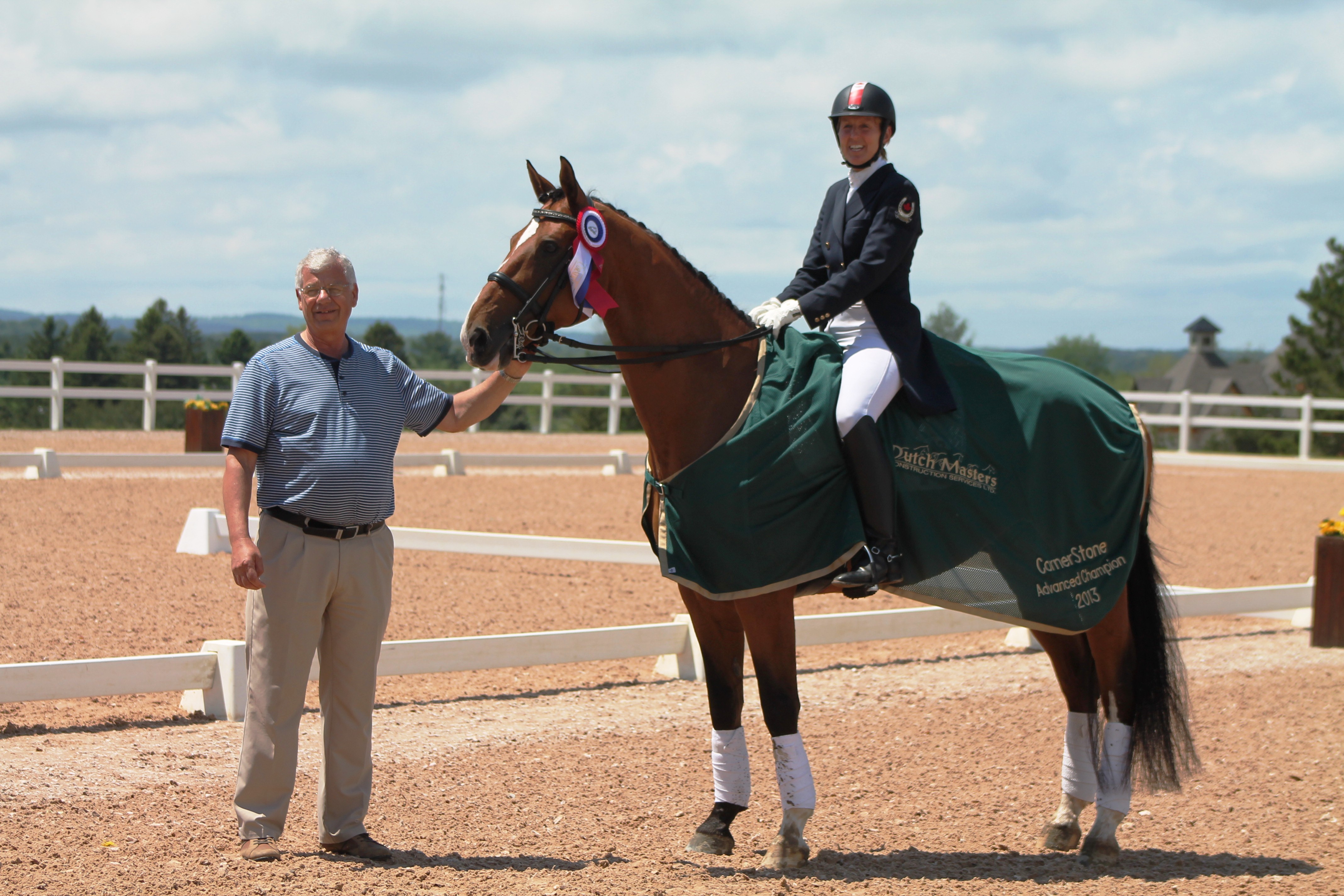 ---
YOUNG HORSE CHAMPIONSHIP SERIES
Dutch Masters will once again be a supporting sponsor of the Young Horse Championship Series for 2014. This season will also feature the Dutch Masters Bonus of $2,500 to the first horse in the series to win 6 classes. There will be qualifiers at various venues in Ontario and Quebec with the final at Angelstone International in September.
Presented by Lothlorien and also supported by Dominion Regalia and Kingridge Stables, this series is split into 3 age categories for 5-year old, 6-year old and 7&8 year old horses to compete based on their experience level.
See the press release for more information on show dates and registration. Follow along on the Dutch Masters Leaderboard for the top up-and-coming horses and all of your favourite riders.
---
JUMP CANADA YOUNG HORSE SERIES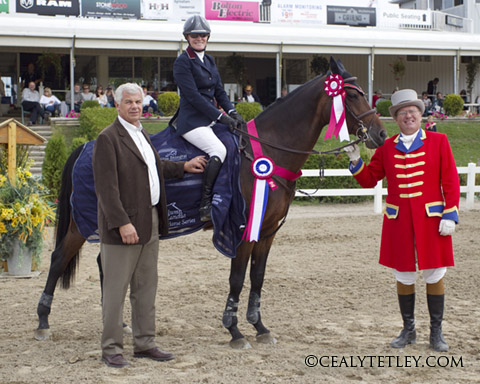 The purpose of the Jump Canada Young Horse Series is to encourage the development of young show-jumping talent and to give Canadian breeders additional incentives to breed superior show-jumping prospects. Competing on a level playing field, the horses are divided according to age and jump at a level suited to their development. This careful development allows the horses to gain valuable experience and advance to the higher levels of show jumping competition with confidence. The Jump Canada Young Horse Series also gives prospective buyers for the hunter and jumper markets an opportunity to view a large group of prospects in a competition setting.
Article by Starting Gate Communications - Press Release September 29, 2011
Beth Underhill and Celline 2 are presented as the 7&8-Year-Old National Champions by Gary van Bolderen of Dutch Masters Construction Services at the Canadian Show Jumping Tournament in Palgrave, ON. Photo by Cealy Tetley
---
FOOTBALL CLUB
Dutch Masters is a proud sponsor and supporter of the Huronia Stallions Football Club. The Stallions have an enrolment of about 400 kids and belong to the Ontario Varsity Football League, which has teams across the province.
Dutch Masters' commitment to the Stallions is particularly special because attending football games was a favourite pastime of Kerry van Bolderen, Gary's late wife and Greg's mother. With her passing, we wanted to continue our significant involvement with this great organization run by wonderful people.
---
DRESSAGE
Dutch Masters is a proud sponsor of the Advanced Division at both the 'Spring Into Dressage' and 'Summer Festival' series presented by CornerStone Farms .
We would like to congratulate Gillian Sutherland and Great Tyme on their championship at the 'Spring Into Dressage' show as well as Lee Tubman and De La Rosa on their championship at the 'Summer Festival' show.
Gillian Sutherland & Great Tyme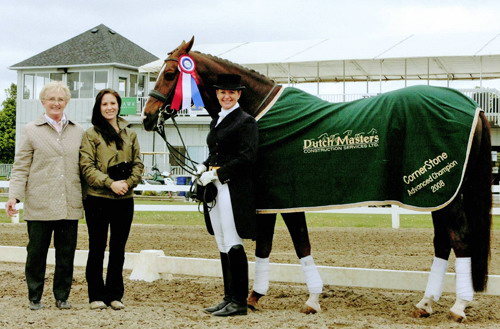 Lee Tubman & De La Rosa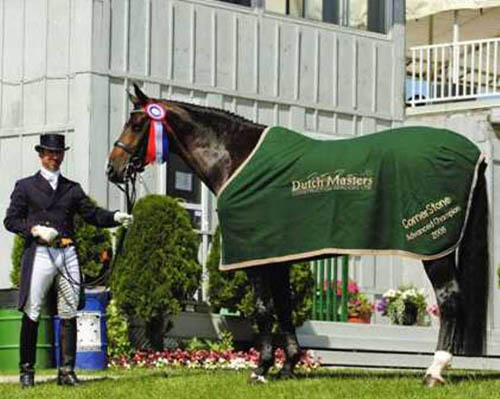 ---
JACQUELINE BROOKS
Dutch Masters Construction Services Ltd. is pleased to announce that it will be sponsoring Jacqueline Brooks. Sponsoring an individual rider is a new adventure for Dutch Masters.
Jacqueline, a 2008 Olympic athlete, is a successful dressage competitor with her partners Gran Gesto and Balmoral.
She operates Brookhaven Dressage where she trains horses and riders in the dressage discipline. Her main goal is to represent Canada at international competitions.
We hope our support will assist Jacquie, and Canada, achieve success on the world stage. Dutch Masters is proud to be associated with Jacquie and her team.
Jacquie will also act as a consultant to Dutch Masters from time to time to assist in servicing its clients.
Dutch Masters has a long history of supporting the horse industry including financial contributions for the Tournament of Champions, Junior Development Series, Wits End Horse Trials, Summer Dressage Series, Headwaters Farm Tour, ONTRA events and others.
Jaqueline Brooks & Gran Gesto competing at the Royal Winter Fair
photo credit Cealy Tetley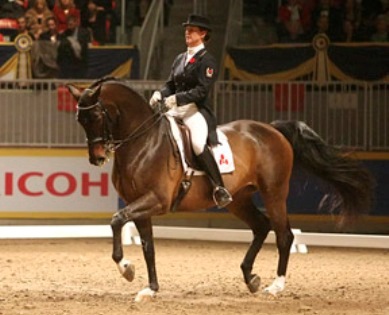 2008 Olympic Send-off Party